EmploymentScape Chief Executive Officer, Harrison Barnes discusses how one can best explain job hopping to potential employers.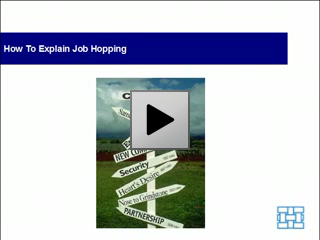 While there is nothing wrong in changing jobs for better career prospects, making too many moves in a short span of time can impact your ability to get a job. Job hopping can be a huge red flag on your resume because it leads employers to question your commitment. It also sends a signal to employers that you have moved because your work was not recognized, you were asked to leave or that you were unable to get along with colleagues.
Harrison advises that you need to be very careful that the reasons you cite for job move makes sense to employers. Reasons which employers are most likely to buy would be change in quality or type of work, structural changes within the organization adversely affecting your future career prospects there or location change.
Whatever your reasons for moving, or whatever be the number of moves you have made in your career, Harrison stresses on the need to convey to prospective employers that you are a stable and dependable employee.
Resources
Search Jobs
Post Your Resume to 65+ Job Sites
Resume Service
How to Explain Job Hopping
by
admin