EmploymentScape Chief Executive Officer, Harrison Barnes discusses the importance of maintaining a routine in life as well as in work in order to achieve success.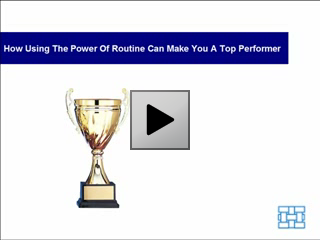 Practice and routine in life, according to Harrison, are undeniably the greatest secrets of all successful men. It is not ability, inborn abilities or experiences which make one person do better than the other. It is only practice. While it is most important to have a routine, even more critical is that the routine be very demanding. Your routine needs to really push you to your maximum limit.
Harrison firmly believes that there is an incredible power to practice and routine. The more we practice something, the better we get. This is why top performers in any field have a much better understanding of what they do since they practice it so much more. When you use routine, you are using the force of incremental improvement and consistency.
Harrison gives the example of setting a routine in one's job search initiative. One then needs to set aside a certain amount of time each day to network, a certain amount for applying to jobs, a certain amount for brushing up on your interview skills and a certain amount of time for following up. Putting in consistent effort like this on a daily basis will make a huge difference. Routine and practice are the most powerful weapons for your career success.
Resources
Search Jobs
Post Your Resume to 65+ Job Sites
Resume Service
How Using the Power of Routine Can Make You a Top Performer
by
admin