Career Mission's Chief Executive Officer, A. Harrison Barnes, in a webinar talked about rumors and bad manners and how these can affect your career.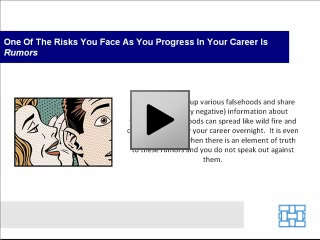 However well-built your defenses; you may be hard working, adaptable, and cooperative, but all it takes is one rumor to destabilize the career you have built painstakingly. Such is the power of rumors that it can wreck your professional and personal life totally. Harrison illustrates the example of an academically and socially accomplished schoolgirl who was the victim of a vicious rumor that ruined her reputation completely. This girl was good at her studies, strong and hardened, and had had a military upbringing that made her highly disciplined. Unfortunately, she chose to remain quiet about the rumor that was circulating, unwittingly allowing her to ruin her life. Eventually, she had no friends, and even men chose to distance themselves from her.
Can you protect yourself against rumors? The best way is to be outspoken about the truth. Being reserved and quiet does not help matters, particularly if you are aware of misinformation being circulated about yourself. Underlining the importance of maintaining clear channels of communication, Harrison highlights how falsehoods and untruths can hurt your career. Worse still, if you choose to keep quiet about them or maintain a low profile, your integrity and reputation can suffer irreversible harm. At some or the other point in your life or career, people are very likely to concoct and spread false and negative information about you.
Resources
Search Jobs
Post Your Resume to 65+ Job Sites
Resume Service
Bad Manners, Rumors and Your Career
by
seo