Career Mission's CEO, A. Harrison Barnes as he analyzed how our careers and lives can be influenced by criticism and our responses to it.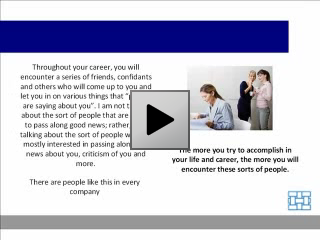 You will encounter a series of people who claim to inform you about what others think of you. Most often, this is more about passing on something negative rather than something good about you. Ironically, you will encounter such people more often as you ascend the ladder of success. Citing an example from his own life, Harrison explains the difference between unwarranted criticism and positive criticism. As a sixteen-year-old, his stepmom once severely criticized him for bringing over friends, including girls, home to watch television on a Friday night. She was resentful about him attending an expensive private school and used the incident to suggest that he should be sent back to his previous, lesser expensive school. Often, unwarranted criticism is a result of people's own fears and insecurities than anything concrete. It is more a reflection of their own jealousies and feelings of being threatened. Positive criticism, on the other hand, results from the person having your best interests at heart.
Unfortunately, you will mostly encounter negative criticism, whether in your family or work life. The person indulging in this rarely has your best interests at heart and instead, is trying to bring you down. Though this sounds terrible, it is quite normal for some people. How you deal with this criticism is what will finally shape your desires and goals. One of the best ways to manage it is by not letting it affect you. This way you don't let others' negative opinions affect you.
Resources
Search Jobs
Post Your Resume to 65+ Job Sites
Resume Service
Criticism, Your Career, and Your Life
by
seo