Employment Research Institute's Chief Executive Officer, A. Harrison Barnes, in a webinar discussed the importance of not letting your ego be influenced by others.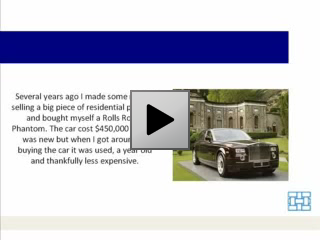 Harrison recalls buying a Rolls Royce. He realized soon that the car was entirely inappropriate for him. The problem with taking this kind of car anywhere was that people thought he was really important. Harrison wondered what was he trying to prove and accomplish with the car.
Many people who are motivated by such cars and other branded things are the people who are lacking something. They need something that will make them look good to others. Your association with brands stokes your ego and makes you feel important. The more insecure a person is the more he/she will associate with brands.
Whether we are buying a car, trying to be part of a social group, trying to go to a certain school or trying to get a certain title or responsibility: we are almost always being controlled by the need and desire to be something so our egos can be made to feel good.
According to Harrison, when you have really made it in life you do not care what kind of car you drive because your ego is not being influenced by others. You are in control. In order to take charge of your career and your life, the most important thing that you can do is be who you want to be. Do not be influenced by what you think you should be. Be your own person and go with what you are and what you like. This is the only way you can ever be truly happy and free.
Resources
Search Jobs
Post Your Resume to 65+ Job Sites
Resume Service
Rolls Royces, Your Ego and Choosing Who You Are Controlled By
by
seo