EmploymentScape Chief Executive Officer, Harrison Barnes offers an insight into the working of the subconscious mind in order to get success in one's career and life.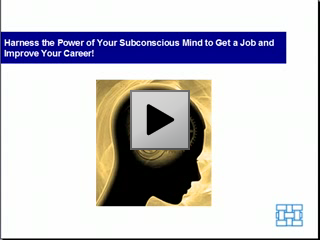 Harrison believes that visualizing the result beforehand is a powerful way to get what you want.
According to Harrison, programming the mind through repetition almost tilts the results in your favor. Writing down goals and reading and visualizing them everyday will make your dream a reality.
Additionally, you can also charge up your mind through meditation and self-hypnosis. By positively influencing the mind, with the help of positive inputs, you can keep your subconscious state happy and harmonious too.
Resources
Search Jobs
Post Your Resume to 65+ Job Sites
Resume Service
Harness the Power of Your Subconscious Mind to Get a Job and Improve Your Career
by
admin