EmploymentScape Chief Executive Officer, Harrison Barnes discusses about the vast potential inside all of us.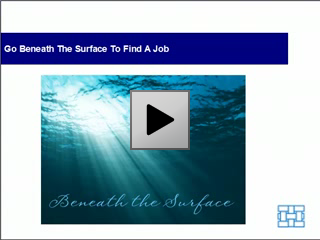 As you go beneath the surface of the earth there is often a lot more there than meets the eye. Harrison believes that it is the same with the job market as well. Many people pick up one newspaper, or look at one job board, or talk to one recruiter and conclude there are no opportunities in the job market. They start to believe the market is so bad that there are no possibilities for them.
When you are looking for a job you need to go deep and look beneath the surface. You should be looking at jobs on every job board, every employer website, and everywhere you possibly can. You need to go beneath the surface and find where life and the opportunities are. This is the way to really get ahead.
When you are looking for a job you need to keep asking questions; do not just accept the idea that there may not be opportunities in certain places. You need to look as hard as you can for the opportunities that exist in the market. Opportunities exist where you least expect them.
Resources
Search Jobs
Post Your Resume to 65+ Job Sites
Resume Service
Go Beneath the Surface to Find a Job
by
admin